[ad_1]
Is it really the holiday season if you haven't watched a romantic comedy? If you like romantic holiday comedies, then Happy and cheerful Premiering next Thursday on DivaBoxOffice.tv is the movie for you!
The network, which will launch on December 1, is a partnership between A Baker Production and DIVA magazine, the world's leading magazine for LGBTQI+ women and non-binary people.
Happy and cheerful is the fourth holiday romantic comedy from a veteran writer, producer and director Christine Boulangerknown for his critically acclaimed queer feature films (Christmas at the Ranch, I hate new year, season of love) and series (Emmy nominated Secs and EXECS and Riley Parra) with powerful and original soundtracks.
Having seen and loved Christmas at the Ranch and I hate new year which features Dia Frampton, the leader of Happy and cheerfulI knew I had to watch this one!
Frampton stars as Becca who, after finishing a run in a popular Broadway musical, decides to spend the holidays with her family and friends in Evergreen, Tennessee, to lead the town's annual Christmas pageant. . (The film even begins with a song featured in the musical!)
Her well-meaning but intrusive mother Tilly (Hayat Nesheiwat) and her best friend, Lucille Sheridan (Janet Ivey), hatch a plan to reunite Becca with Lucille's son, Sam (Andi René Christensen). (Don't you like meddling with moms?)
Except hey, Sam isn't at all thrilled to see their ex-girlfriend and high school sweetheart. Becca left them three years ago and Sam has built a life as a bartender at the family bar, Sheridan's.
Cue shenanigans and the whole town trying to bring the two together, while Sam wants nothing to do with it, and Becca just wants to make amends with Sam.
To further complicate what should be a sweet reunion (after the sentimental hashing, obviously), offers from Becca of Hollywood and her manager provoke Drama!
As the genre demands, of course, Becca and Sam reconcile and confess their love, but not before Sam is very aware that they're wrong for not giving Becca a chance and trusting Becca to know what she wants.
Becca does really well on Broadway, by the way, so the central conflict of the movie doesn't quite work for me, but Happy and cheerful is always a fun movie!
A side plot occurs among the townspeople as they prepare for the Christmas pageant with Becca's brother, Jack (Jon Lee), admitting to someone that he likes her and their shared love for the Trivia and Dungeons & Dragons. The contest itself is also very cute and one of the characters sings in ASL with Becca and later in the contest.
Christensen is the first non-binary lead role in a full-length holiday rom-com (Syed Family X-Mas is a short starring Vico Ortiz) and I really hope we see more rom-coms with protagonists from all walks of life and all types. It's time!!!
Happy and cheerful is also just plain funny with lines like "That's all I wanted for Christmas!" followed by "I just asked for a slow cooker." The humor and interactions are down to earth and Frampton and Christensen really shine together.
The meddling of the town is also fun with a scene where people are dressed in black and hiding in the bushes while trying to get Becca and Sam fixed. Even though the main plot point is getting Becca and Sam together , everyone in the film also has their moment to shine.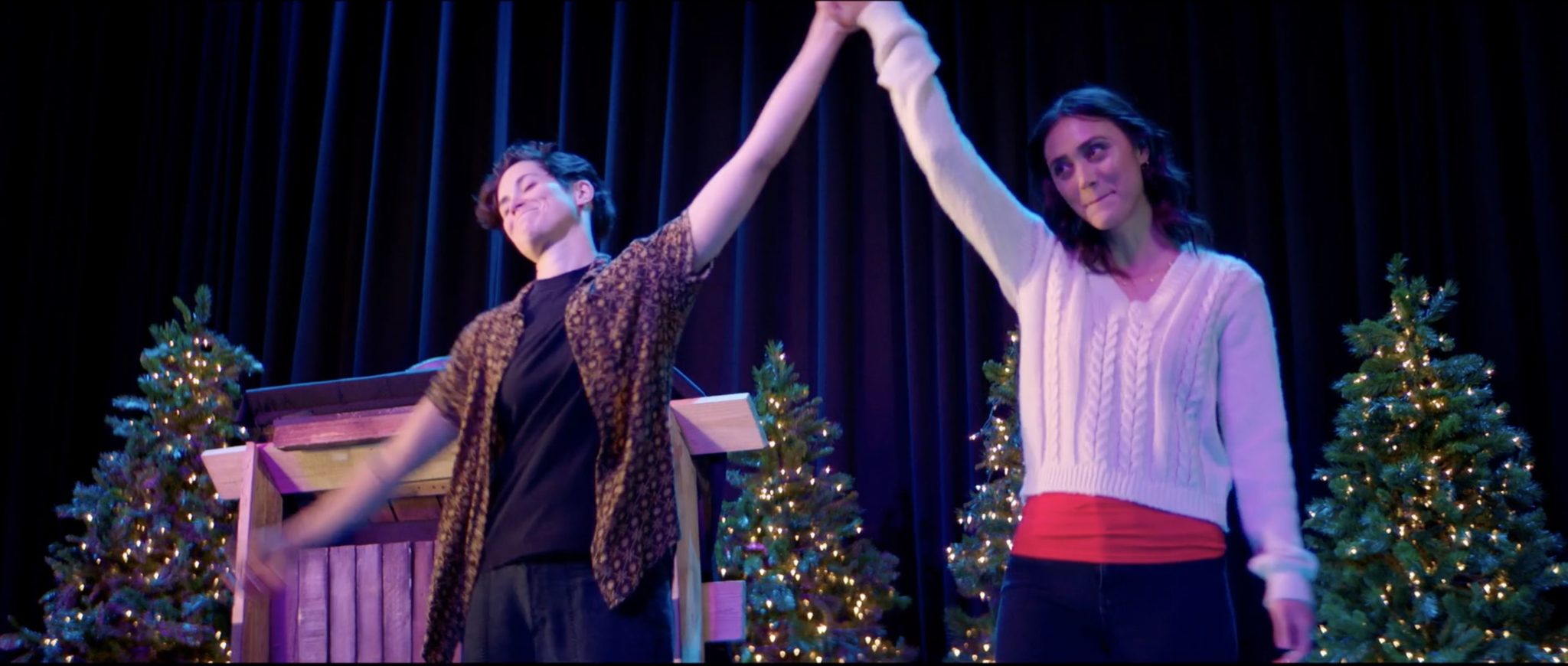 Look, in the news cycles full of violence and negative rhetoric affecting the LGBTQ community, the films where the only drama our two gay leaders face is being sad for five minutes while being assured that their happy ending is a balm we desperately need.
I really hope that DivaBoxOffice.tv can grow beyond four movies a year and that we have every possible holiday movie (and just movies! and shows! and shorts! and everything in between)!
You can look Happy and cheerful and other media on December 1.
Images and screener courtesy of DivaBoxOffice.tv
Do you have strong ideas about this piece that you need to share? Or maybe you have something else in mind that you would like to discuss with other Fandomentals? Head over to our community server to join the conversation!
[ad_2]
Source link