[ad_1]
BREMERTON, Wash.—This is the latest game in coach Joe Kennedy's seven-year legal battle.
The Supreme Court will hear oral arguments Monday in the Kennedy case and will ultimately decide whether a public school employee is allowed to participate in silent prayer in full view of students while on time.
"The only thing I ask of the Supreme Court is that I become a coach and then thank God," Kennedy said.
In 2015, Kennedy lost his job as an assistant football coach at a Washington state high school after kneeling in silent prayer at the 50-yard line after games.
Since starting coaching in 2008 at Bremerton High School, about 30 miles west of Seattle, Kennedy has made it a point to thank God after every game.
"I had a commitment with God from the beginning when I accepted the [coaching] work that I would attribute to him and thank him after every game, won or lost," Kennedy told the Daily Signal during an exclusive interview in Bremerton last month.
Kennedy, 52, says he doesn't remember the first time he prayed at the 50-yard line because "it was okay, it was just me getting out and getting on my knees all alone, and giving thanks for what the players have just done.
Eventually, players became curious about what Kennedy was up to at the end of each game, and some asked if they could join him.
"It's a free country, it's America, you can do whatever you want," Kennedy recalled telling his players.
End of the prayer with the players
Praying after games became a regular practice, in which Kennedy would give a brief pep talk to his players which also included a brief prayer. He did this for several football seasons, before the Bremerton School District found out and told the coach he could no longer pray with his players.
No one had filed a complaint about the prayers, but Kennedy agreed to end the practice. He told the Daily Signal that he "never prayed with the kids again".
But the coach continued his practice of praying alone in midfield after football matches.
"The prayers, how long they lasted, I'd say probably [they] on average eight to 12 seconds," Kennedy said. "I mean, I'm not a big prayer of a guy. It was really, 'Thank you, God, for what these young men have just done on the court, and thank you for letting me be a part of it.' »
As Kennedy continued to pray on the field during the 2015 season, he recalled, "the school lawyers got involved, and they kind of kept moving the goal post, and they told me that I could no longer pray even on my own if people could see me."
In an effort to accommodate Kennedy's desire to pray after games, the school district said in a public actofficials offered the coach several private places to "use for prayer," including "in the school building or athletic facility, or even in the press box at Memorial Stadium."
Kennedy did not find these options satisfactory, as they would require him to leave the field, walk to the designated area, and then walk back to his players. The coach says it would have taken too long straight after a game when he still had responsibilities to the players and other coaches.
The Bremerton School District placed Kennedy on administrative leave when he refused to stop praying at the 50-yard line.
At the end of the season, Kennedy said, his personnel evaluation read, "in big, big, bold print…, 'Don't rehire.'"
"An evidence"
It was then that the coach decided he was going to take legal action against the school district.
"When they told me that, I had to choose between my faith and my job, it was a no-brainer, and I got up and fought," Kennedy said.
The suit rose through the court system over seven years. After the United States Court of Appeals for the 9th Circuit ruled in favor of the school district, Kennedy appealed to the United States Supreme Court.
In January, the high court announced that it would hear Kennedy's case. He is represented by the association First Freedoma conservative christian legal aid organization.
The Supreme Court "decided a very narrow question, which is whether or not [a football coach] can be fired from their job if [he] engages in private prayer on one knee at the 50-yard line," First Liberty lawyer Jeremy Dys told the Daily Signal.
"Kennedy did not waive his First Amendment rights at the school gate," said Sarah Parshall Perry, a legal officer at the Heritage Foundation. "The Supreme Court has repeatedly reaffirmed this principle since its 1969 decision, Tinker vs. Des Moines."
The Daily Signal, which has been following Kennedy's case since 2015, is the multimedia news agency of The Heritage Foundation.
Perry said she saw reason for Kennedy to be optimistic about the High Court, which now has a 6-3 Conservative majority under Chief Justice John Roberts.
"The Roberts court has previously said that in this case, the 9th Circuit's understanding of the free speech rights of public school teachers is troubling and may warrant future review," Perry said, adding, "Fortunately , that time has come."
"Misleading Narrative"
Americans United for Separation of Church and State, a nonprofit legal organization, is representing the Bremerton School District in the Supreme Court.
The legal group responded to the Daily Signal's request for comment with a writing. statement:
Mr. Kennedy's lawyers continue to present a misleading narrative in court because they know the facts of the case, the laws of our country, and religious and non-religious Americans are on the side of protecting students' religious freedom. .

The law is clear that teachers and coaches cannot lead public school students in prayer. This is what makes this matter so urgent – ​​a loss would dangerously erode the separation between church and state, a fundamental tenet of our democracy.
On his websiteAmericans United for Separation of Church and State says Kennedy "violated his players' religious freedom by urging them to join his public prayers at the 50-yard line during their football games."
On October 28, 2015, while Kennedy was on administrative leave but still an employee of the Bremerton School District, the district issued a "Questions and answers about assistant football coach Joe Kennedy."
The document's second question reads, "Why can't Kennedy lead the students in voluntary prayer?" Nobody is obligated to participate, right?
The school district responded, writing, "There is indeed no evidence that any students were directly coerced into praying with Kennedy."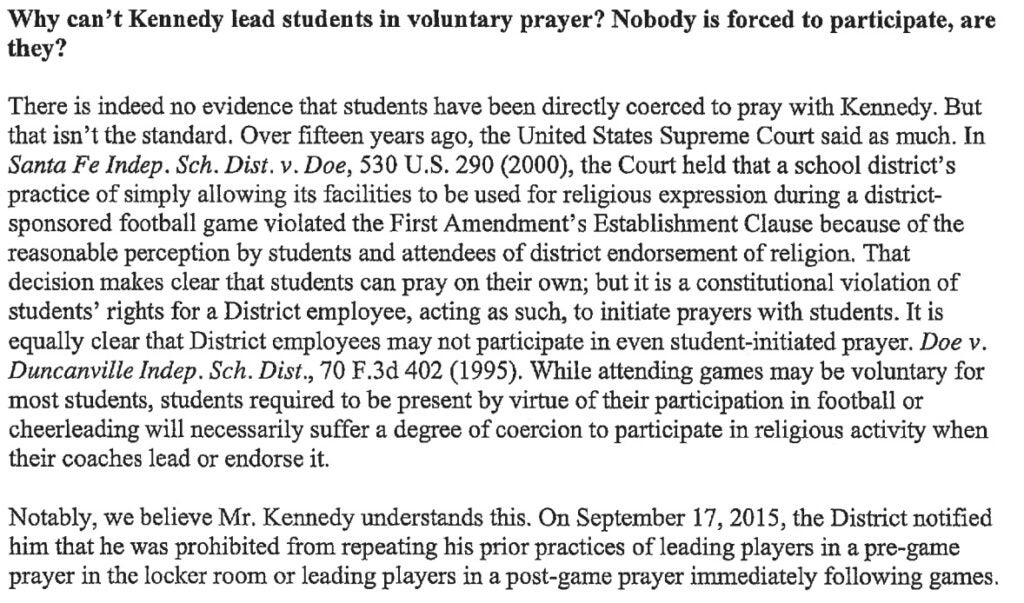 "I must continue"
In a E-mail As of October 21, 2015, Bremerton School Superintendent Aaron Leavell advised then-Washington State Schools Superintendent Randy Dorn that the "issue" regarding Kennedy and the prayer had "changed".
"The issue is rapidly evolving as it has moved from leading prayer with student-athletes to the right of coaches to lead personal and private prayer…on the 50-yard line," Leavell said.
If faced with the decision again, Kennedy told the Daily Signal, he would still take a praying knee at the end of football games.
"There would be no doubt in my mind; I would still do it, even if I had to go through all of this again," Kennedy said. "Giving up your faith is not something I'm going to give up. And I will not give up the fight for the rights of all. No one should have to fear being fired for their faith.
The Supreme Court is expected to deliver its decision in the Kennedy case before retiring in late June or early July.
"This legal battle, it's worn out on me," Kennedy rold The Daily Signal. "I mean, I'm a little grayer. It was really difficult.
But, he said, in the "third and fourth quarters of a football game, you have to keep going".
The coach added:
I don't care how tired you are, I don't care how much pain you feel. You just have to continue and you have to finish, if there is time left on the clock. It's what I've always trained, and now I really have to live with it.
Do you have an opinion on this article ? To chime in, please email letters@DailySignal.com and we'll consider posting your edited remarks in our regular "We Hear You" column. Don't forget to include the URL or title of the article as well as your name and city and/or state.
[ad_2]
Source link