The secret to Marcus Smith's rapid rise over the past 12 months lies in the notebooks he has spent years filling with his innermost thoughts. He always finds it helpful to write down his hopes and dreams even though it sounds like a fantastic wishlist to others. "I firmly believe that if you are constantly writing down your goals, you are focusing on something. If you set your mind right, you can accomplish almost anything.
Around the same time last year, three of his career ambitions – winning a Premiership title with the Harlequins, touring with the British and Irish Lions and starting big test matches for England – were far from realized. Quins stuttered badly, especially in Europe. Racing 92 tore them 49-7 at the Stoop shortly before Christmas, and boy Smith was courted by Bath, Lyon and Toulon, among others.
And now? Like a Cinderella wearing a mouthguard, Smith's professional life has been transformed, largely through her own desire and hard work. He started – and shone – at 10 for England against world champions South Africa, represented the Lions and inspired the Quins, who travel to Castres on Sunday, to a Premiership title. Since Jonny Wilkinson got a young English rugby player, he didn't have such potential to convert not only goals but also a whole new non-rugby audience.
Which makes it handy that Wilkinson is now one of the young half-fly's most trusted advisers. During the autumn campaign in England, in particular, Smith spoke regularly with his illustrious predecessor about mental preparation. "This is the most important thing that I learn from him. How to deal with things that don't always go your way or things that go your way, how to live, how to be a good person.
Avoiding some of the mental angst that Wilkinson suffered would also be a boon, which is another reason Eddie Jones hates any semblance of hype surrounding the 22-year-old. "I have thought for a long time that all the talk around him has been of no use to England or Marcus," the head coach wrote in his latest leadership book. The misguided comparisons that ensue to Emma Raducanu, the complaints about "rat poison" allegedly spread by over-excited media… all of this encourages Philippines-born Smith to keep his visionary eyes on price.
Regardless, it can be difficult to climb the highest peak in Twickenham and not have the chance to recharge afterwards. So it was a collectively smart reflection to allow Smith to spend a week in the winter sun with his girlfriend after experiencing "a physical breakthrough" against the Springboks. "Bigger men, aggressive defense, the time spent with the ball was less than I've ever experienced before. I just tried to think about what had happened and take some time to rest my brain and body.
The year 2021, however, will forever hold a special place in his heart. "There are some things that I'm really proud of and all of them were goals I wrote down when I was 15 or 16. I have quite a few little books I've written over the years. But then you park it. I will never forget these three [autumn] weekends but it's gone now.
"For me, it's about refocusing whenever I have the opportunity and defining my goals over the season and over the years. Every player who has played for England will have had [extra attention] at one point. For me, it's just about surrounding myself with brilliant people who are able to share bits of wisdom with me. It's not a straight line, but as long as I continue to listen and be open to their comments, I hope I can stay on the path I am now.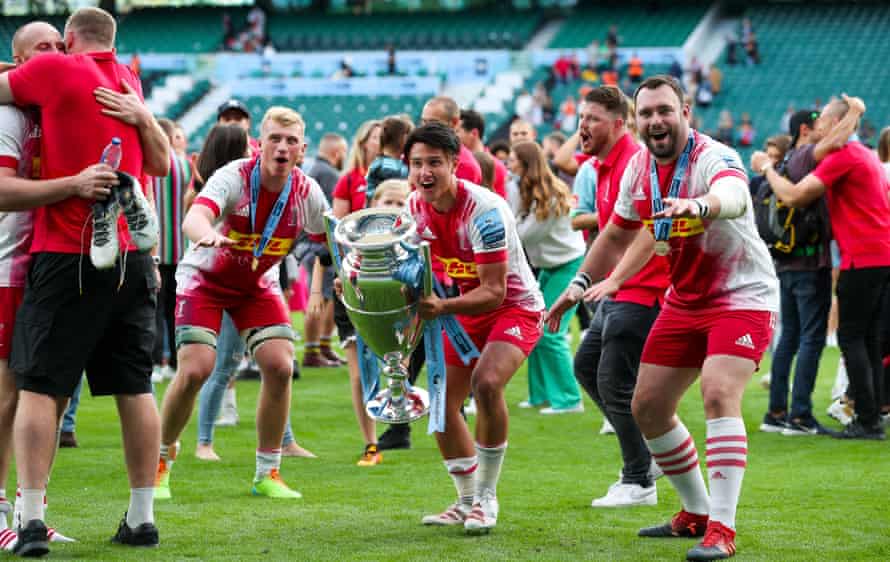 For, as the annual "Big Game" approaches at Twickenham on December 27, the self-aware blacksmith knows he is not yet the finished article. Arguably Jones didn't need to hurry last year – "I wasn't sure Marcus had the desire to be the best he could be… we had a reasonably direct conversation" – because the running back opening felt the same. "It was at a point in my career when I didn't feel like I was performing to the best of my ability, for whatever reason. Much of it was inside. I looked long and hard at myself, all parts of my game and my preparation. For me it was not up to par and I tried to fix it.
It's no coincidence that the regime change at Harlequins, which allowed players to assume more control, also made a huge difference. "When we were in trouble at Quins, it was difficult. We got banged at home several times, we threw big leads. It was not easy and we had frank and honest conversations. The standards are now much higher. We do not accept bad efforts. We think it's non-negotiable if you get the chance to play for the Harlequins. As a group, we are much more united… we are in a completely different place.
Some things will never change, however, and the Smith family home in Brighton clearly remains a blessed sanctuary. "If I ever need an escape, it's pretty easy to go, eat my mother's rice, and enjoy the company of my brothers." The youngest, Thomas, is 18 while Luke, 20, plays for Rosslyn Park and has already represented the Philippines at seven. "I wouldn't have done any of this without them," says their loyal older brother. "I remember many times we would go to the park and try to avoid each other. They would attack me or read my side step, which would frustrate me to the highest degree.
It is all paying off now, the only question being how far it can skyrocket. At one point he liked the idea of ​​helping rugby in his mother's homeland – "That would be the long term goal, changing people's lives and making people in the Philippines happy and proud of me." – but, as always, he has several other ambitions. "I want to make sure I continue to love my rugby and have a smile on my face every time I step onto the pitch. I want to win a lot of trophies here at Quins. In England, I want to play the next 10 years, touch wood. I want to go to the next World Cup, I want to play for the Lions again. I want to continue. Whenever the talented Smith makes a wish, it has the odd habit of coming true.