Text size:


SWriting a questionnaire is not to be taken lightly; he needs creativity. A person who asks useful questions in the humanities must surely endure the painful pangs of creativity. This is why most teachers tend to take refuge in questions from previous years. This shortcut is what makes students believe that if they learn the answers to questions that have arisen over the past decade, high marks are available to them.
I have never been in favor of copying and pasting from old questionnaires. In over twenty-five years of my teaching career, I haven't done it once. When I prepare a questionnaire, the only two things in front of me are the program and the prescribed texts.
In front of me was Ezhuththola, a text created to help students avoid the usual pitfalls in the use of language and generate chaste diction. I have prepared some questions under the heading "Correcting errors". Next, I needed questions from the "Punctuation" chapter. It describes each of the punctuation marks and gives examples of their use. How to prepare engaging questions on this subject? It wouldn't be enough for me to ask questions to use each of the signs in isolation. After some thought, I decided, "Rewrite the passage below with the appropriate punctuation. Then I thought about a passage that would be suitable for this exercise.
Thirakhayute Reethisastram (Screenplay Methodology) – a compilation of essays by prominent Malayalam filmmakers on the screenplay[1]Written, edited by PM Binukumar, is a publication of the Kerala Bhasha Institute, prescribed as a reference text for Bachelor and Masters courses in Malayalam at Mahatma Gandhi University. One of the essays it contains is "Screenplay: Discoveries of a Believer" by filmmaker and social worker PT Kunju Muhammed. A dialogue within the text offered as the one I should use for the punctuation question.
---
Read also: The silent segregation of Muslim students from Hindus in Bhopal schools
---
In the article, Kunju Muhammed postulates that the structure, energy and momentum of a script can be found in its own environment. It tells the story of a madman from his native country, who inspired a scene in his film Garshom where the protagonist speaks with God. Kunju Muhammed quotes the madman as he dialogues with God.
Mad man: Creator, Creator. . .
God: What's wrong, you son of a bitch?
Mad man: A mackerel, if we cut it, how many pieces will there be?
God: Species, how many times do I have to tell you it's three?
The fool doubles as God in this conversation.
I put it in the questionnaire. I had fleeting thoughts about the relevance of God calling someone a son of a bitch.
However, abuse is as essential to language as ailments. A distraught lover addressing his beloved as his treasure and a woman calling her abusive husband Kaalan (in vernacular for Yama, the god of death) are embellishments in the use of language. It is this figurative use, beyond their literal meaning, which gives energy and life to language.
I decided to include the whole conversation between the madman and God in the questionnaire. In any case, that was not a question for students of religious studies. For literature students, shouldn't all characters, be they gods, demons, devils, angels, devas, asuras or incarnations be equal?
I was still thinking about this piece of dialogue. In Kunju Muhammed's article, the dialogue comes after the story of the madman is told. Here, when the backstory couldn't be told, I was rationalizing, wouldn't it be better for a name to be given to the interlocutor? Usually in Kerala, the community that refers to God as padachchon, meaning the Creator, is Muslim. I should choose a Muslim name, I decided. The writer who told the story of the madman was himself a Muslim. I first removed the initials from his name. This left 'Kunju Muhammed'.
It is too long. Mohammed. That should be enough.
With my handwritten questionnaire, I moved to the DTP center, a small room adjacent to the college library. The DTP operator was a twenty-seven-year-old girl who had worked there for nine years as a gambler. I showed him the punctuation question and asked him not to add any punctuation marks. After reading the dialogue, she laughed and asked if I had written it myself. Glad the humor could make her laugh, I told her it was from a book, then went to the canteen for a cup of tea.
---
Read also: BJP, media, MHA – slander against Muslims and Sikhs have a lot in common. The result will also be
---
March 25, 2010. It must have been past 8 pm, dinner time at home. Father Pichalakkat called me on my cell phone.
"They say there is a problem with our BCom semester questionnaire," he said.
I asked anxiously, "What kind of problem?
"There is a problem with the question you defined for punctuation. "
"Who told you that, father?" "
"He came on the Indiavision channel. "
I was flabbergasted.
"Have you seen the news, father?" "
– No, a relative from the Gulf who saw the news called me.
Indiavision is a channel founded by a member of the Muslim community.
I explained to Father Pichalakkat that the excerpt for the question was taken from a book published by the Kerala Bhasha Institute, assisted by the Union Ministry for Human Resource Development, and my reason for choosing it.
"So it's okay," he said, and disconnected the line. His confidence didn't reassure me, however. A few other concerns rushed through my mind.
The next call came almost immediately: Dr Sankararaman, professor in the physics department and a close friend of mine. He lived near the college. His words were full of worry and concern. Things weren't going well. The speech was that the Prophet had been insulted and posters had been pasted on the walls of the college.
'Was the Prophet insulted ?!' I was stunned. A moment later, a lightning flashed through my mind. It was the realization that the truncation of PT Kunju Muhammed's name to 'Muhammed' was misinterpreted to create controversy. I became numb.
"I had used Muhammed's name in the questionnaire. However, isn't it a common name? If this were to connote the name of the Prophet, should it not have been Nabi (in Arabic for Prophet and thus used in Malayalam) or Mohammad Nabi? ' My voice was shaky.
"All of this is true. But if they create this bogus propaganda, who knows where it will end? He looked distressed. He rang the bell saying he would call later.
---
Read also: India cannot alienate its 20 million Muslims, not when the Taliban find legitimacy, never
---
He called back soon after. He told me that posters had been distributed in mosques in Thodupuzha and surrounding areas urging worshipers to protest. He also advised me to get in touch with the MP for Idukki, PT Thomas, candidate of the United Democratic Front alliance of which the Muslim League was part.
Then I called KI Antony, a local leader from Thodupuzha, and asked him to intervene. He had been my colleague at Nirmala College, professor in the department of malayalam.
The next call I received was from the Deputy Superintendent of Thodupuzha Police, KG Simon. I recounted the background to the controversial issue and my non-guilt in the whole affair.
After that, there was a call on my landline – an unknown Muslim from Thodupuzha. After hearing the statements in the mosque and exhortations to the community to protest, he somehow found out my number and called me to find out the truth. I clarified it to him and he seemed satisfied.
His farewell words were: "Thank you, sir. I fully understand the situation. The question now is: how can this be relayed to everyone here? In addition, there are people in my community determined to stir up trouble.
---
Read also: Indian media are waging a holy war against Muslims. He acts like hyenas
---
I noticed a cup of black tea someone brought me while I was busy on the phone. I decided to drink it even though it got cold. But before I could take a sip, the phone rang again. He was a senior middle school teacher, whom I knew had connections to the police in Thodupuzha. He advised me to leave my house and stay away for a while.
"Do you think someone can attack me?" "
"Not only that, it is also possible that the police will arrest you. "
'Why? What crime have I committed? "Regardless of that, there is a movement to do it."
"Where did you get this information, sir?" From the police department?
"You can think of it that way. Either way, don't let them stop you now.
He had always been my benefactor. I felt I had to heed his advice.
Subsequently, everything happened on a war footing. I rushed into my ablutions; I asked my wife, Salomi, to prepare a bag with a change of clothes.
I decided to stay with a friend in Ernakulam and told my wife and son not to reveal my whereabouts. If anyone asks about me, they must tell them that I had left for the city of Thodupuzha.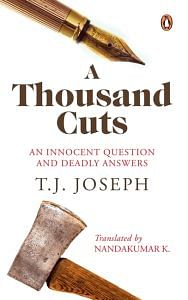 This excerpt from "A Thousand Cuts: An Innocent Question and Deadly Answers" by TJ Joseph was published with permission from Penguin Random House.
Subscribe to our channels on YouTube and Telegram
Why the news media is in crisis and how to fix it
India is all the more in need of free, fair, uninhibited and questioning journalism as it is facing multiple crises.
But the news media are in a crisis of their own. There have been brutal layoffs and pay cuts. The best of journalism is shrinking, giving in to crass spectacle in prime time.
ThePrint employs the best young reporters, columnists and editors. Supporting journalism of this quality requires smart, thoughtful people like you to pay the price. Whether you live in India or abroad, you can do it here.
Support our journalism